Established in 1974 and well known for its reputation for providing high quality mechanical, repairs and fitments on most of the vehicles, Hammond 4wd Tyres & More has been gathering over 125 years of mechanical / Jeep / 4WD of experience under one roof.
A stepping stone of the former Hammond 4wd Centre was back in 2005 when it was approached by the national Tyres & More network manager to merge and form together Hammond 4wd Tyres & More.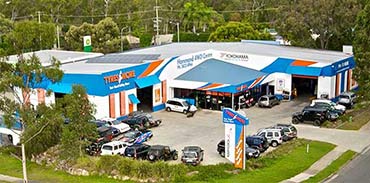 It rapidly grew and became a "One Stop Shop", selling wheels and tyres, fitting and balancing tyres and performing wheel alignments for standard vehicles as well as custom race vehicles and race trucks.
Since then, Hammond 4wd Tyres & More at Capalaba proudly represent all of the Redland City and thanks to our loyal customers, it was ranked and voted the Number 1 store in Australia in 2010, winning the prestigious trophy plaque "TYRES AND MORE STORE OF THE YEAR". We are your tyre specialists in Capalaba and surrounding suburbs.
We stock a large variety of tyre brands so you can choose from the major tyres such as Yokohama Tyres, Nitto Tyres, BF Goodrich Tyres but also budget ones like Mazzini Tyres, Achilles Tyres and Starfire Tyres.
Hammond 4wd Tyres & More are also preferred stockist of wheels for companies such as Dynamic Tyres, 4×4 Wheel Co, Access Alloys, YHI, Wheel Demon and many more. We also sell and fit all makes and models of Diff Locks to most 4WD vehicles on the market, all of them built in our workshop for accuracy and testing upon installing.
Hammond 4wd Tyres & More are also preferred stockists for Coupler Tec rust prevention systems which have been tried and tested on our own vehicles in order to get the best results.
Hammond 4wd Tyres & More does a wide variety of suspension work from standard to everyday legal 50mm Lift kits for Tradies and the weekend warrior, on and off-roaders, Cape York explorers and all types of 4WDers to the large custom competition style vehicles with a range of heavy duty suspension upgrades now available for most makes and models.
Plus, we are Major Suspension stockists for EFS Suspension, Dobinson Suspension, Pro Comp, Rubicon Express Suspensions & Caloffroad suspension.
We also have access to products from Superior Engineering and Performance Suspension as well as other heavy duty components that are currently created and tested on the market today.
2014 was another big year for the company, when Mark Hammond (Garry's Son) and his wife, Kylie, purchased the business from Garry and Sharon Hammond.
Mark has worked in the business for over 18 years starting as an apprentice mechanic/technician and becoming the Workshop Manager 6 years later and General Manager 2 years after that.
Kylie, who was initially a successful hairstylist and owner/manager in the Redland city area, joined the team at Hammonds in 2007 after having her first child. Kylie takes care of all the marketing & accounts at Hammonds as well as her and Mark's 3 young children, as a full time mum.
Since Mark and Kylie have become Company Directors at Hammond 4WD Tyres & More, they have been enthusiastically taking customers on 4WD outings, from family weekend getaways to hardcore off-road 4WD trips.
It is their real passion for family and four wheel driving that make them drive such a prestigious family business.
Here at Hammond 4WD, we believe that is crucial to stay up-to-date with the latest news in the industry, that is why Mark and Kylie are actively using the social media channels and keeping the 4WD enthusiasts well informed.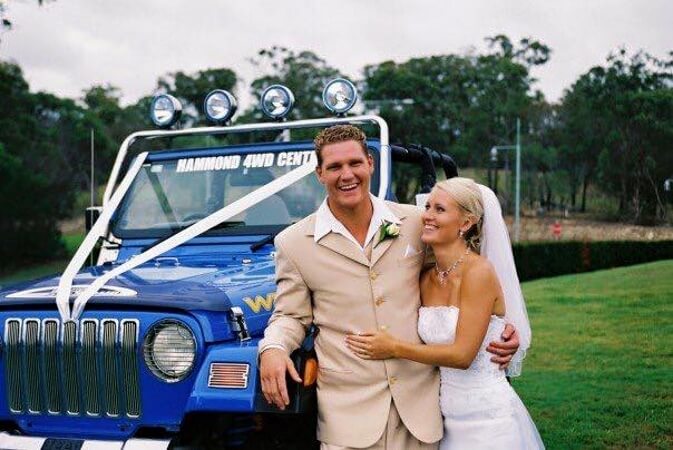 With over 100 vehicles pass through the doors every week from tyre punctures to Super Charger installs, the team is always happy to help by treating you as a valued customer and most of all, valued friend, sharing fun experiences and stories from our 4WD life.
Hammond 4WD Tyres & More is your complete "One Stop Shop", so no matter the problem your vehicle has, we have the knowledge and experience to guide you through your build or repairs. The team at Hammond's is represented by highly-skilled and qualified technicians that have been hand-picked to be the backbone of the business with consistently performing to the best of their ability at every job they do. Most of all, it's the endless attention, care and respect for their customers that make a difference when choosing Hammond 4WD Tyres & More.
Jeep Specialist Since 1974

Largest JEEP spare parts provider in Australia

JEEP & 4WD Customisations

Qualified Expert Technicians

High Quality Work

Excellent Reviews From Loyal Customers

New Offers & Great Service All Year Round
Knowing very little about tyres or wheels (or cars in general) I am at the mercy of mechanics and tyre technicians. Hammond Tyres are the first place that has earned my trust. No over-servicing, no up selling, just professional, honest service. Thanks guys. I appreciate your honesty.

Lee Bess

Genuine caring people, offering great service, advice and knowledge from years and years of experience. I would not take my Defender anywhere else. Mark and the team know their stuff. Anyone who disagrees probably didn't follow their advice.

Drew Parker

Absolutely chuffed with the care and attention the team at Hammonds have given my Lola (aka Saab Turbo) near vintage years, haha. Like all diva's, she can be quite a challenge, so thank you to Mark Hammond and your team for your professionalism and attention to detail.

Lynne Lumley

Absolute legends we've had both our 4x4s done here. Their knowledge and work is top notch!

Luke Bird

I replaced my old Yokahama 4wd tyres on my Hilux Duel Cab today after 100,000km combined road and beach use for new Yokahama 4wd tyres this morning at Hammond 4wd Tyres Capalaba. Amazing tyres for the price and great service. I'm glad Hammond talked me into the Yokahama's when I first put them on 3 years ago. The All Terrain tyres have been outstanding in all conditions, I definitely recommend them for all round value for money. Compared to the standard Duellers that originally came with the 4wd there is no comparison between the 2. Duellers lasted up to 50,000km when they became weapons in the wet threatening the safety of myself and others on the road. Thumbs up Hammond for the right advice. I'll be back in another 3 years for a new set of Yokeys.

Michael Kellow